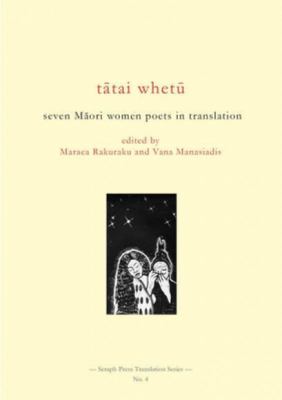 $20.00
NZD
Category: NZ Poetry
Tātai Whetū: Seven Māori Women Poets in Translation is a ground-breaking bilingual poetry collection, which features a poem each by seven Māori women writers, originally written in English, and a translation in Māori. The two version of the poems are presented on facing pages. The fourth book in the Ser aph Press Translation Series, Tātai Whetū celebrates Māori writing and the Māori language. Despite its small size, it is already generating a lot of excitement among readers.    ​The featured poets are Anahera Gildea, Michelle Ngamoki, Tru Paraha, Kiri Piahana-Wong, Maraea Rakuraku, Dayle Takitimu and Alice Te Punga Somerville. Their poems have been translated by Hēmi Kelly, Te Ataahia Hurihanganui, Herewini Easton, Jamie Cowell, Vaughan Rapatahana and Dayle Takitimu. The collection has been edited by Maraea Rakuraku and Vana Manasiadis.  This gorgeous chapbook is hand-bound with hemp thread and features cover artwork by Miriama Grace-Smith. ...Show more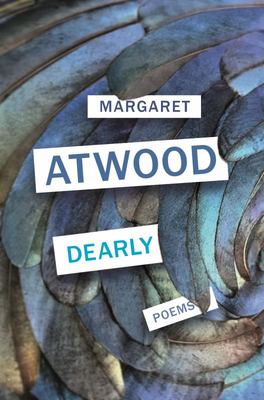 $34.00
NZD
Category: Poetry
The collection of a lifetime from the bestselling novelist and poet. By turns moving, playful and wise, the poems gathered in Dearly are about absences and endings, ageing and retrospection, but also about gifts and renewals. They explore bodies and minds in transition, as well as the everyday objects and rituals that embed us in the present. Werewolves, sirens and dreams make their appearance, as do various forms of animal life and fragments of our damaged environment. Before she became one of the world's most important and loved novelists, Atwood was a poet. Dearly is her first collection in over a decade. It brings together many of her most recognizable and celebrated themes, but distilled - from minutely perfect descriptions of the natural world to startlingly witty encounters with aliens, from pressing political issues to myth and legend. It is a pure Atwood delight, and long-term readers and new fans alike will treasure its insight, empathy and humour. ...Show more
$29.00
NZD
Category: Poetry
rupi kaur constantly embraces growth, and inhome body , she walks readers through a reflective andintimate journey visiting the past, the present, and the potential of the self. home body is a collection of ofis a collection of raw, honest conversations with oneself -reminding readers to fill up on love , acceptance, community,family, and embrace change. illustrated by the author, themes of nature and nurture, light and dark,rest here. i dive into the well of my bodyand end up in another worldeverything i needalready exists in methere's no needto look anywhere else else -home ...Show more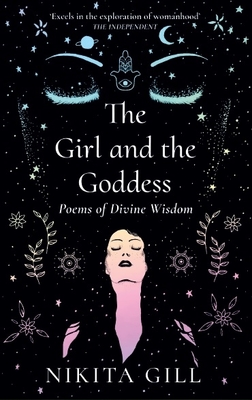 $37.00
NZD
Category: Poetry
Let her be a little less human, a little more divine Give her heart armour so it doesn't break as easily as mine One girl's wild journey of strength, beauty and growth as she discovers who she really is. Lyrical wonder, spiritual revelation and revolution meet with epic mythical landscapes in this deepl y intimate coming-of-age story, one that teaches us all, no matter how small we feel, to become the masters of our own destiny. Meet Paro. A girl with a strong will, a full heart and much to learn. Born into a family reeling from the ruptures of Partition, follow her as she crosses the precarious lines between childhood, teenage discovery and realising her adult self. Nikita Gill's masterful poetry and beautiful illustrations conjure up jasmine-scented voices and smiles inhabited by ancestor's souls, rain dancing in a new city and the painful caverns in our hearts. We are taken on a journey of deity wisdom, fragmented family, and love lost and gained. We see power in belief, healing from trauma and hope after conflict. Undercurrents of the Trimurti - the Creator, the Preserver and the Destroyer - run deep, as Paro must confront fear, desire and the darkest parts of herself in the search for meaning and, ultimately, empowerment. Navigating different cultures, religions and identities, The Girl and the Goddess is a mesmerising poetic tale of where we come from, how we grow and how we become who we are. ...Show more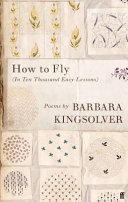 How to Fly
by Barbara Kingsolver
$33.00
NZD
Category: Poetry
A beautifully produced gift-edition of Barbara Kingsolver's luminous poetry - to appeal to her loyal fans and fiction readers more generally.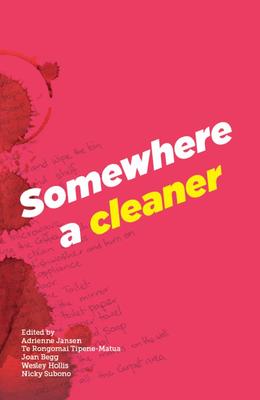 $25.00
NZD
Category: Poetry
Somewhere a cleaner Poems by cleaners from around New Zealand During the Covid-19 pandemic, we've all been thinking about essential services. Including cleaning. Cleaning is universal. It's steeped in tradition and culture. It's essential, it's ordinary and it's surprisingly poetic. Somewhere a cleaner captures the spirit, the highs and the lows, of this occupation that often falls below the radar. The poems range across hospitals, offices, marae, clocks, schools, boat hulls, sneakers and more. The poets themselves, a mix of novice and established writers, are equally diverse. Through songs, rhymes, deeply insightful poems and poignant small stories, this anthology gives a voice to a profession both invisible and indispensable. Endorsement: Having walked the corridors of hospitals for more than a few years, I can tell you that cleaners can sometimes be the best doctors of all. And now I find they can write some great poems too. This book is wonderfully democratic. The art here is in the work done before and beyond the writing. The endless picking up, mopping, smoothing and shining. And always, it seems, for someone else. These are poems with strong forearms. My deepest congratulations to every poet in this collection – and my long overdue thanks. I will never walk on a neatly mopped floor again. - Glenn Colquhoun ...Show more
$28.00
NZD
Category: Inspirational Poems & Stories | Series: Timeless Rumi Ser.
The Spiritual Poems of Rumi is a beautiful and elegantly illustrated gift book of Rumi's spiritual poems translated by Nader Khalili, geared for readers searching for a stronger spiritual core.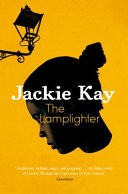 $25.00
NZD
Category: Poetry
The Lamplighter takes us on a journey through the dark heart of slavery. Produced both as a radio and stage play, it also reads as a stirring and a multi-layered poem. Four women and one man tell the story of their lives through slavery, from the the fort, to the slave ship, through the middle passage, following life on the plantations, charting the growth of the British city and the industrial revolution. The Lamplighter focuses on parts of history other books rarely touch upon, revealing the devastating human cost of slavery for individual people. Constance has had to witness the sale of her own child; Mary has been beaten to an inch of her life; Black Harriot has had to become a high class whore; and our lead, the Lamplighter was sold twice into slavery from the ports in Bristol. All four very different voices tell their story, in a rousing chorus that speaks to the experiences of all those oppressed by the slave trade, lifting in the end to a soaring and rally conclusion. Radical and widely acclaimed when it was first staged, this groundbreaking play from one of our most beloved poets and writers, Jackie Kay, remains as urgent and daring to this day. ...Show more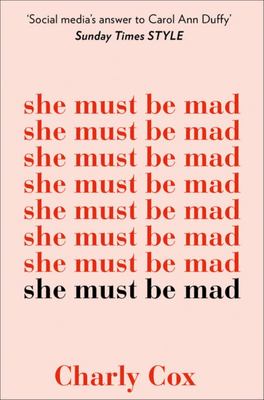 $20.00
NZD
Category: Poetry
'Poetry meets mental health in Charly Cox's brave and beautiful She Must Be Mad.' Stylist Magazine'Reading this book made me feel less alone.' MashableThis audiobook includes exclusive introductions to a select number of Charly's poems, an interview between herself and her friend, Jack Harries, and musi c from Tom Rosenthal.She Must be Mad explores coming-of-age: the pain and beauty of love, the relief and the agony of turning from girl to woman, the isolation of an untethered mind and the power and subjugation of the body. Charly captures the formative experiences of today's young women from the poignant to the prosaic in writing that is at once witty, wry and heartfelt. Wayward nights out that don't go as planned; the righteous anger at those men with no talent or skill or smarts who occupy the most powerful positions in the world; the strange banality of madness and, of course, the hurt and indecision of unrequited love. For every woman surviving and thriving in today's world, for every girl who feels too much; this is a call for communion, and you are not alone. ...Show more
$40.00
NZD
Category: Poetry
Essentially, this is Clive James' desert island poems: a selection of his favourite verse and a personal commentary on each.The Fire of Joy was the final book Clive James completed before his death in 2019. It takes its title from the French expression Feu de Joie, which refers to a military celebration when all the riflemen of a regiment fire one shot after another in a wave of continuous sound: it is a reminder that the regiment's collective power relies on the individual, and vice versa.In this book, James has chosen a succession of English poems, exploding in sequence from Chaucer to the present day; they tell the story of someone writing something wonderful, and someone else coming along, reading it, and feeling impelled to write something even more wonderful. After a lifetime, these are the poems James found so good that he remembered them despite himself. In offering them to you, the main purpose of this book is to provide ammunition that will satisfy your urge to discover, learn and declaim verse.As well as his selection of poems, James offers a commentary on each: whether this is a biographical, historical or critical introduction to the poem, or a more personal anecdote about the role a particular poem has played in James's life, these mini essays provide the joy of James's enthusiasm and the benefit of his knowledge. Full of the flashing fires of poems you will not be able to forget, this book will ignite your passion and leave you with a contagious crackle rattling in your ears. ...Show more
$40.00
NZD
Category: Poetry
Kindred in spirit to The Lost Words but intriguingly new in form, pocket-sized gem The Lost Spells introduces another beautiful set of spell-poems and artwork by formidable creative duo Robert Macfarlane and Jackie Morris. Robert Macfarlane is the bestselling author of Mountains of the Mind, The Wild Pl aces, The Old Ways, Landmarks and Underland. He is also co-creator of The Lost Words, with Jackie Morris, and Ness, with Stanley Donwood. His work has won multiple awards including most recently the Wainwright Book Prize 2019. He is a Fellow of Emmanuel College, Cambridge, and writes on environmentalism, literature and travel for publications including the Guardian, the Sunday Times and The New York Times. Jackie Morris has written and illustrated over forty children's books, including Song of the Golden Hare and Tell Me A Dragon, which have collectively sold more than a million copies worldwide. She is co-creator of The Lost Words, for which she won a Kate Greenaway Medal, and most recently introduced and illustrated a new edition of Barbara Newhall Follett's lost classic The House Without Windows. ...Show more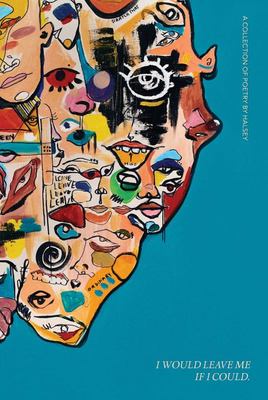 $40.00
NZD
Category: Poetry
Grammy Award-nominated, platinum-selling musician Halsey is heralded as one of the most compelling voices of her generation. In I Would Leave Me If I Could, she reveals never-before-seen poetry of longing, love, and the nuances of bipolar disorder. In this debut collection, Halsey bares her soul. Bring ing the same artistry found in her lyrics, Halsey's poems delve into the highs and lows of doomed relationships, family ties, sexuality, and mental illness. More hand grenades than confessions, these autobiographical poems explore and dismantle conventional notions of what it means to be a feminist in search of power.   Masterful as it is raw, passionate, and profound, I Would Leave Me If I Could signals the arrival of an essential voice.   Book cover painting, American Woman, by the author.   Halsey, born Ashley Nicolette Frangipane, is a Grammy-nominated singer-songwriter and recipient of the prestigious Songwriters Hall of Fame's Hal David Starlight Award. She lives in Los Angeles, California. ...Show more