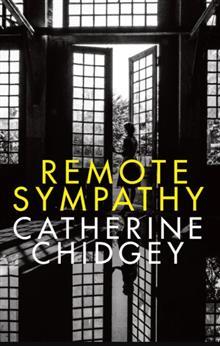 $35.00
NZD
Category: NZ Fiction
Moving away from Munich isn't nearly as wrenching an experience for Frau Greta Hahn as she had feared. Their new home is even lovelier than the one they left behind, and best of all - right on their doorstep - are some of the finest craftsmen from all over Europe, prepared to make for her and the other officers' wives living in this small community anything they could possibly desire: new curtains from the finest silks, furniture designed to the most exacting specifications, execute a fresco or a mural even. The looming presence of the nearby prison camp - lying just beyond a patch of forest - is the only blot to mar what is otherwise an idyllic life in Buchenwald. Frau Hahn's husband, SS Sturmbannfuhrer Dietrich Hahn, has taken up a powerful new position as camp administrator. The job is all consuming as he wrestles with corruption that is rife at every level, inadequate supplies, and a sewerage system under ever-growing strain as the prison population continues to rise. Frau Hahn's obliviousness is challenged when she is forced into an unlikely alliance with one of Buchenwald's prisoners, Dr Lenard Weber. A decade earlier he invented a machine - the Sympathetic Vitaliser - that at the time he believed could cure cancer. Does the machine work? Whether it does or not, it might yet save a life. ...Show more
$23.00
NZD
Category: Fiction.
A NEW YORK TIMES BESTSELLER LONGLISTED FOR THE BOOKER PRIZESHORTLISTED FOR THE PRIX FEMINA AND THE PRIX MEDICIS. WINNER OF THE PRIX DU MEILLEUR LIVRES ETRANGER. CHOSEN AS A BOOK OF 2020 BY THE SUNDAY TIMES, OBSERVER, GUARDIAN, i PAPER, FINANCIAL TIMES, NEW STATESMAN, SCOTSMAN, IRISH TIMES, BBC.COM, WATE RSTONES.COM.  'A wondrous book. It left me hopeful; this is its gift' - Elizabeth Strout.  'An empathy engine ... It is, itself, an agent of change' - New York Times Book Review.  'A quite extraordinary novel'- Kamila Shamsie. How do we continue living once we have lost our reason to live? Rami and Bassam live in the city of Jerusalem - but exist worlds apart, divided by an age-old conflict. And yet they have one thing in common. Both are fathers; both are fathers of daughters - and both daughters are now lost. When Rami and Bassam meet, and tell one another the story of their grief, the most unexpected thing of all happens: they become best of friends. And their stories become one story, a story with the power to heal - and the power to change the world. 'The book goes anywhere and everywhere. It is a delirious and thrilling improvisation, a jazz solo spun out of that meeting ... A spectacular structure of stories about everything' - Bryan Appleyard, Sunday Times ...Show more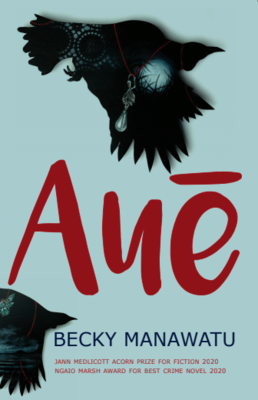 Aue
by Becky Manawatu
$35.00
NZD
Category: NZ Fiction
Taukiri was born into sorrow. Auē can be heard in the sound of the sea he loves and hates, and in the music he draws out of the guitar that was his father's. It spills out of the gang violence that killed his father and sent his mother into hiding, and the shame he feels about abandoning his eight-year- old brother to a violent home. But Ārama is braver than he looks, and he has a friend and his friend has a dog, and the three of them together might just be strong enough to turn back the tide of sorrow. As long as there's aroha to give and stories to tell and a good supply of plasters. Here is a novel that is both raw and sublime, a compelling new voice in New Zealand fiction. Haere mai, Becky Manawatu. ...Show more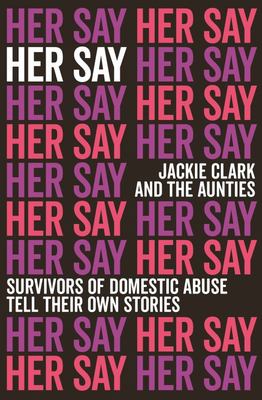 $35.00
NZD
Category: NZ Non-Fiction
In 2012, Jackie Clark launched The Aunties, a grassroots charity helping women to rebuild their lives after a period of trauma. She quit her job, turning her back on her comfortable life, to focus on The Aunties full-time, becoming Aunty in Charge and assisting hundreds of women with material needs and emotional support. Jackie has long dreamed of a publication that gives these women a voice. This powerful new book features the stories of a number of very different New Zealand women, told their way. The collected stories chart their narrators' lives and personal histories, through the lens of having lived with - and escaped - an abusive partner. Her Sayis spoken from the heart, uncompromising but offering hope, redemption, personal triumph. It's a book for all women, showing how owning our stories gives us the power to write daring new endings. It will challenge, illuminate, and empower readers - not to mention the storytellers themselves. ...Show more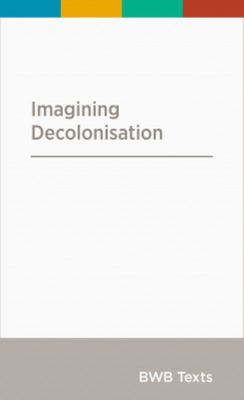 Imagining Decolonisation (BWB Texts)
by Rebecca Kiddle; Bianca Elkington; Moana Jackson; Ocean Mercier; Mike Ross; Jennie Smeaton; Amanda Thomas
$15.00
NZD
Category: Anthologies & Essays
Decolonisation is a term that scares some, and gives hope to others. It is an uncomfortable and bewildering concept for many New Zealanders yet needed if we are going to build a country that is fair and equal for all who live there. This book sets out the case for decolonisation by illuminating through anecdotal, real life examples -- what decolonisation might look and feel like. ...Show more
$25.00
NZD
Category: Fiction.
In 1901, the word bondmaid was discovered missing from the Oxford English Dictionary. This is the story of the girl who stole it. Motherless and irrepressibly curious, Esme spends her childhood in the Scriptorium, a garden shed in Oxford where her father and a team of lexicographers are gathering words for the very first Oxford English Dictionary. Esme's place is beneath the sorting table, unseen and unheard. One day, she sees a slip containing the word bondmaid flutter to the floor unclaimed. Esme begins to collect other words from the Scriptorium that are misplaced, discarded or have been neglected by the dictionary men. Over time, Esme realises that some words are considered more important than others - that words and meanings relating to women's experiences often go unrecorded. She begins to collect words for another dictionary: The Dictionary of Lost Words. Set when the women's suffrage movement was at its height and the Great War loomed, The Dictionary of Lost Words reveals a lost narrative, hidden between the lines of a history written by men.   ...Show more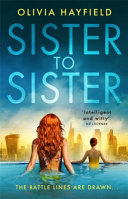 $35.00
NZD
Category: Fiction.
The battle lines are drawn... Following the scandalous revelations about his love life, disgraced media mogul Harry Rose is searching for redemption. His daughters - bright, winsome Eliza and dark, difficult Maria - have taken over the helm at Rose Corp. But while Eliza's on study leave at Oxford, Mar ia embarks on a drive to rid the British media giant of sleaze. His legacy under threat, Harry wants Maria out and Eliza in. But hanging between Harry and Eliza is the unresolved death of Eliza's mother, Ana. Eliza has a vision for Rose Corp. Along with her wildly gifted friends Will Bardington and Kit Marley, enfants terribles of the arts world, she plans a new golden age of British TV drama. But Maria is standing in her way. And then there's the distraction of her childhood playmate, the twinkly-eyed metrosexual Rob Studley, and a new threat, from Eliza's thorn-in-the-side Scottish cousin, the charismatic Mackenzie James. Guided by Harry, Eliza navigates life as Rose Corp's new queen. But after a stellar start, things take a dark turn, and ultimately Eliza will have to make a choice: career, or love? It shouldn't be this hard. Loosely based on the reigns of Tudor queens Mary and Elizabeth, Sister to Sister is the sequel to Olivia Hayfield's Wife After Wife. ...Show more
$30.00
NZD
Category: Feminism
Women Don't Owe You Pretty tells you to love sex, hate sexism, protect your goddamn energy, life is short, dump them, and that you owe men nothing, least of all pretty. Florence's debut book explores all progressive corners of the feminist conversation; from insecurity projection and refusing to find c omfort in other women's flaws, to deciding whether to date or dump them, all the way through to unpacking the male gaze and how it shapes our identity. Women Don't Owe You Pretty is an accessible leap into feminism, for people at all stages of their journey who are seeking to reshape and transform the way they view themselves. In a world that tells women we're either not enough or too much, it's time we stop directing our anger and insecurities onto ourselves, and start fighting back to reshape the toxic structures of our patriarchal society. Florence's book will help you to tackle and challenge the limiting narrative you have been bombarded with your whole life, and determine feminism on your own terms. After all, you are the love of your own life.     ...Show more
$37.00
NZD
Category: Sexuality
An essential exploration of women's sexuality that will radically transform your sex life into one filled with confidence and joy. After all the books that have been written about sex, all the blogs and TV shows and radio Q&As, how can it be that we all still have so many questions? The frustrating reality is that we've been lied to - not deliberately, it's no one's fault, but still. We were told the wrong story. Come As You Are reveals the true story behind female sexuality, uncovering the little-known science of what makes us tick and, more importantly, how and why. Sex educator Dr Emily Nagoski debunks the common sexual myths that are making women (and some men!) feel inadequate between the sheets. Underlying almost all of the questions we still have about sex is the common worry- 'Am I normal?' This book answers with a resounding yes! We are all different, but we are all normal - and once we learn this, we can create for ourselves better sex and more profound pleasure than we ever thought possible. ...Show more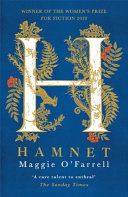 Hamnet
by Maggie O'Farrell
$38.00
NZD
Category: Fiction.
A stunning new departure for Maggie O'Farrell's fiction, Hamnet is the heart-stopping story behind Shakespeare's most famous play. TWO EXTRAORDINARY PEOPLE. A LOVE THAT DRAWS THEM TOGETHER. A LOSS THAT THREATENS TO TEAR THEM APART. On a summer's day in 1596, a young girl in Stratford-upon-Avon takes to her bed with a fever. Her twin brother, Hamnet, searches everywhere for help. Why is nobody at home? Their mother, Agnes, is over a mile away, in the garden where she grows medicinal herbs. Their father is working in London. Neither parent knows that one of the children will not survive the week. HAMNET is a novel inspired by the son of a famous playwright. It is a story of the bond between twins, and of a marriage pushed to the brink by grief. It is also the story of a kestrel and its mistress; flea that boards a ship in Alexandria; and a glovemaker's son who flouts convention in pursuit of the woman he loves. Above all, it is a tender and unforgettable reimagining of a boy whose life has been all but forgotten, but whose name was given to one of the most celebrated plays ever written.   ...Show more
$38.00
NZD
Category: Fiction.
Booker Prize Winner 2020. It is 1981. Glasgow is dying and good families must grift to survive. Agnes Bain has always expected more from life. She dreams of greater things: a house with its own front door and a life bought and paid for outright (like her perfect, but false, teeth). But Agnes is abando ned by her philandering husband, and soon she and her three children find themselves trapped in a decimated mining town. As she descends deeper into drink, the children try their best to save her, yet one by one they must abandon her to save themselves. It is her son Shuggie who holds out hope the longest. Shuggie is different. Fastidious and fussy, he shares his mother's sense of snobbish propriety. The miners' children pick on him and adults condemn him as no' right. But Shuggie believes that if he tries his hardest, he can be normal like the other boys and help his mother escape this hopeless place. Douglas Stuart's Shuggie Bain lays bare the ruthlessness of poverty, the limits of love, and the hollowness of pride. A counterpart to the privileged Thatcher-era London of Alan Hollinghurst's The Line of Beauty, it also recalls the work of Édouard Louis, Frank McCourt, and Hanya Yanagihara. It is a blistering debut by a brilliant novelist with a powerful and important story to tell.     ...Show more
$35.00
NZD
Category: Fiction.
The Vignes twin sisters will always be identical. But after growing up together in a small, southern black community and running away at age sixteen, it's not just the shape of their daily lives that is different as adults, it's everything: their families, their communities, their racial identities. Te n years later, one sister lives with her black daughter in the same southern town she once tried to escape. The other secretly passes for white, and her white husband knows nothing of her past. Still, even separated by so many miles and just as many lies, the fates of the twins remain intertwined. What will happen to the next generation, when their own daughters' story lines intersect?  Weaving together multiple strands and generations of this family, from the Deep South to California, from the 1950s to the 1990s, Brit Bennett produces a story that is at once a riveting, emotional family story and a brilliant exploration of the American history of passing. Looking well beyond issues of race, THE VANISHING HALF considers the lasting influence of the past as it shapes a person's decisions, desires, and expectations, and explores some of the multiple reasons and realms in which people sometimes feel pulled to live as something other than their origins.     ...Show more